Have you been considering starting a side hustle in freelancing? Have you looked into platforms like UpWork or Fiverr but you simply don't know how to get started? Do you have a desire to make extra money from home and in your free time?
If you answered "Yes" to any of these questions then The Freelancing Masterclass is the course for you.
In this course, Aubrey will take you through the exact steps on how you can make money through freelancing
Aubrey will walk you through the exact process of creating a successful freelancing business, from setting up your profile, to getting your first client, to niching down and getting paid a premium for your skillset.
The Freelancing Masterclass covers it all!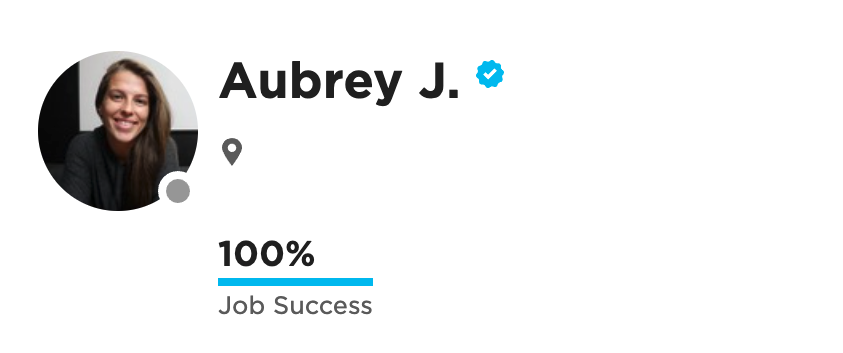 Build a Successful & Remote Freelancing Business
Aubrey has experience growing a freelancing career from the ground up, with zero background experience.
Aubrey has a 100% success rate on Upwork with a 5-Star Rating.
Aubrey not only knows how to grow a freelancing business but also how to maximize earnings, time, and your skillsets in the most effective way possible.
Is This Course Right For You?
Aubrey teaches the fundamentals of making money through freelancing
LIFETIME-ACCESS to lectures that are beneficial even if you:
✳️ Have ZERO Side Hustle or Freelancing Experience
✳️ You're Looking for a Side Hustle to Help You Get Ahead Financially
✳️ You're Looking for a remote side hustle you can do on YOUR time
✳️ You've Been Wanting to Get Involved in Freelancing But You Don't Know Where to Start
What You Get:
✳️ Learn the benefits of freelancing
✳️ Learn how to grow your wealth remotely and in your free time
✳️ Learn how to set yo your freelancing profile effectively
✳️ Learn how to communicate with your clients & complete work to ensure a 5 Star Rating (which will in turn make you more money!)
✳️ HUNDREDS of lectures to help you master freelancing!
✳️ Free Teachable App access to Watch Courses on the go.
✳️ Set custom Playback speed.
✳️ New Lectures periodically added!