Have you been considering creating a side hustle in the peer-to-peer car-sharing space? Have you looked into platforms like Turo or get around but you simply don't know how to get started? Do you have a desire to turn cars into a passive income stream?
If you answered "Yes" to any of these questions then the Car Sharing Masterclass is the course for you.
In this course, Aubrey will take you through the exact steps on how you can create a six-figure side hustle in peer-to-peer car-sharing using only low-cost economy cars.
Aubrey will walk you through the exact process of creating a successful side hustle out of peer-to-peer car sharing, from buying your first car to running a multi-unit fleet to communicating guests with more.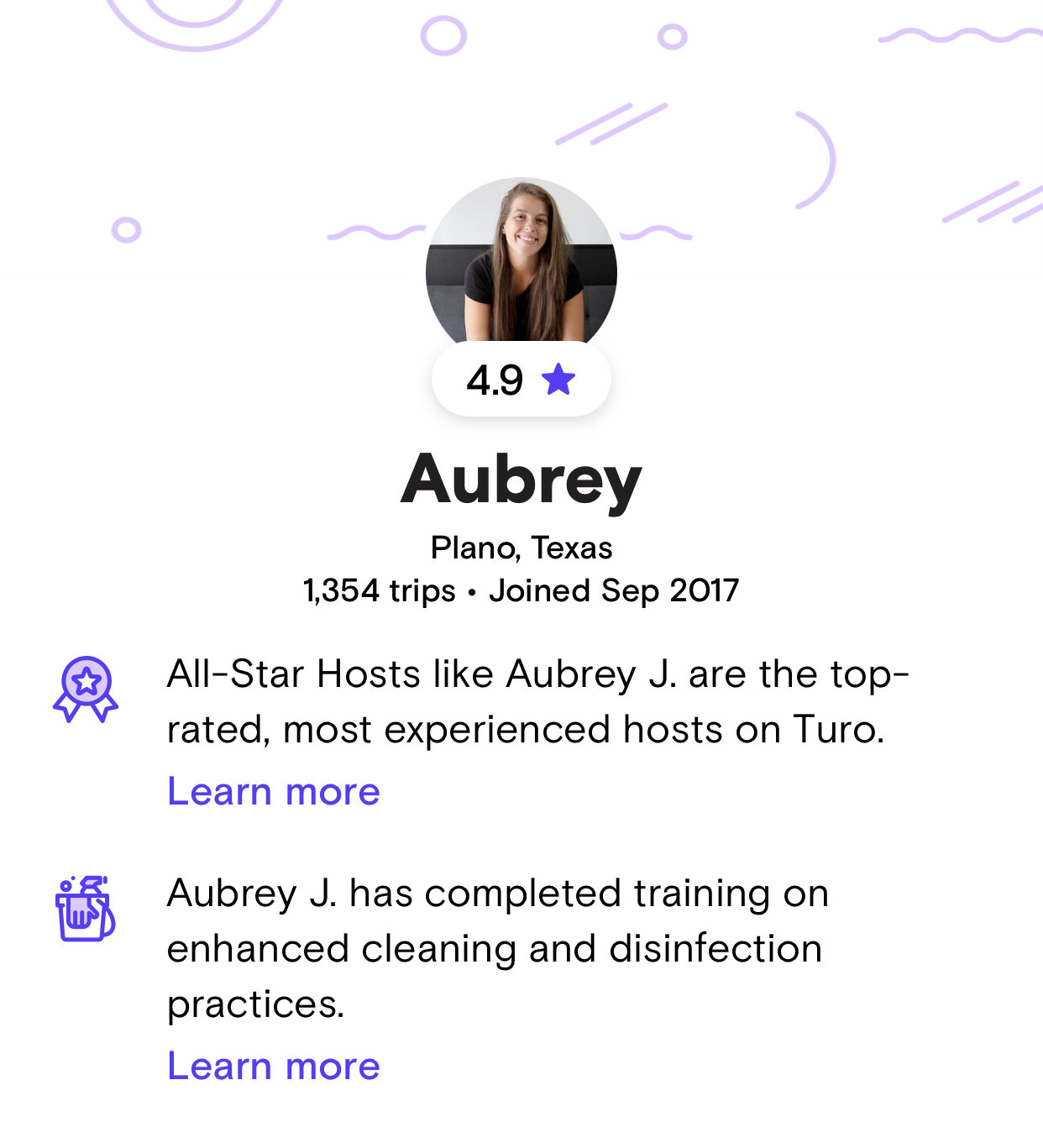 1300+ Trips, Six-Figures in Revenue & 4.9 Star Rating
Aubrey has had over 17 cars on the Turo platform and currently has a 10 car (and growing) rental fleet.
Aubrey has over 1300 total trips on the Turo platform dating back to 2017. With an average rating of 4.9 stars.
Aubrey not only knows how to grow a fleet, grow revenue but also maintain a positive guest/host relationship as well.
Is This Course Right For You?
Aubrey teaches the fundamentals of making money in the car-sharing marketplace
LIFETIME-ACCESS to lectures that are beneficial even if you:
✳️ Have ZERO Side Hustle or Car Sharing Experience
✳️ You're Looking for a Side Hustle to Help You Get Ahead Financially
✳️ You're Looking for a Semi-Passive Income Stream
✳️ You Want to Turn Your Passion for Cars into a Profitable Business
✳️ You've Been Wanting to Get Involved in Peer-To-Peer Car Sharing But You Don't Know Where to Start
What You Get:
✳️ Learn how to grow and manage a car fleet of any size
✳️ Learn how to use CASH CARS to make five figures PER MONTH
✳️ Learn how to buy cars at the right price
✳️ Learn how to communicate with your guests to ensure a 5 Star Rating (which will in turn make you more money!)
✳️ HUNDREDS of lectures to help you master car-sharing!
✳️ Free Teachable App access to Watch Courses on the go.
✳️ Set custom Playback speed.
✳️ New Lectures are Regularly Added (Example: Changes of Terms of Service with Car-Sharing Platforms)